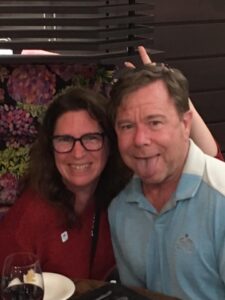 Hi, this is Mary, and with my husband, Gary, we want to welcome you to ISLAND ART PARTY!
ISLAND ART PARTY located in Kihei, Maui is an opportunity we couldn't pass up. Curt and Alma Winn, the previous owners, created a wonderful place to have fun and let the artist inside come out. Like Curt and Alma, "artistic" is not at the top of the list of adjectives one would have used to describe either of us – creative maybe.
We are honored that Curt and Alma picked us as the new owners and we vow to uphold their tradition of fun, art and community. I previously owned a puzzle and game store in northern California that had a similar look and feel as Island Art Party. My "product" was also fun and my mechanism for fun was puzzles and games. We had parties, events, celebrations and even held 8 National Puzzle Competitions. Similarly, she had off-site events for team building and corporate groups.
The best part of owning Island Art Party is that we get to facilitate FUN for the residents and visitors of Maui, with an activity that makes people smile…surprise themselves…make some new friends…maybe sing a little, too.
Our "office" is a space filled with music, laughter and creative energy…The name of our business includes the word "party"… It's tough to consider this "work". We are grateful for the opportunity and for the support of the Maui community.
Are You Ready to Party? Reserve Your Seat Today!